Welcome!
Welcome to the 8th International Symposium on Submarine Mass Movements and Their Consequences. The symposium was held on Vancouver Island on Canada's stunning west coast on 7-9 May 2018. The meeting occured in beautiful Victoria, the province'€™s capital. The west coast ise surrounded by an abundance of examples of landslides, both onshore and offshore, with mountainous terrain, inherent seismicity and glacial history.

Participants Photo
Symposium
The International Symposium on Submarine Mass Movements and Their Consequences (ISSMMTC) gathers together international researchers concerned with offshore geohazards. In particular, it is the venue for those working on submarine landslides and the results of those landslides, such as tsunamis, and their impacts on society. It now has a long history promoting and publishing leading edge research in this field, including six (6) volumes that are part of the Advances in Natural and Technological Hazards Research Series published by Springer. The event is administered under the auspices of UNESCO IGCP project 640 - S4SLIDE (Significance of Modern and Ancient Submarine Slope LandSLIDEs) which aims to strengthen cooperation and promote the publication of scientific literature, promote forums that exchange ideas and facilitate knowledge transfer to developing countries, and improve the links between all sectors with a stake in furthering knowledge of submarine mass movements and their consequences.

Sidney and Victoria host not only the federal research lab of the Institute of Ocean Sciences, but also the University of Victoria (UVic) and numerous ocean-related high tech companies. UVic hosts Ocean Networks Canada, the premier facility for real-time observation and monitoring of the ocean and ocean floor with a fibre-optic network into the Pacific, the Strait of Georgia, northern British Columbia's coast, as well as the Arctic and the Atlantic.
Victoria and Vancouver Island
Victoria is the province of British Columbia's capital city, located on Vancouver Island amidst a mélange of exotic terranes on the flank of the Cascadia mountain range, and has beautiful views onto the snow-capped Olympic Mountains to the south. Victoria is known for its great restaurants, shops, cafes and its general laid back island lifestyle. It is also one of the best Canadian cities to enjoy the booming craft beer scene, featuring 10 local breweries, and furthermore has many local vinyards worth visiting in close proximity. World class museums showcase the rich cultural history and a stroll along the city'€™s harbour will lead you to many of the city'€™s historical buildings.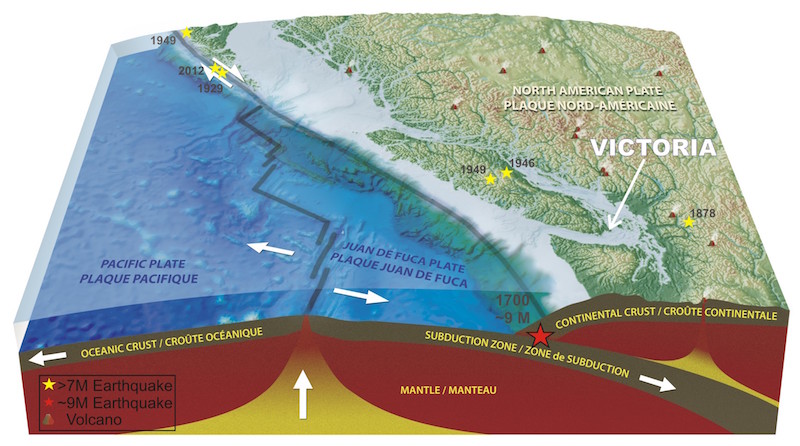 © Natural Resources Canada
Vancouver Island enjoys some of Canada's mildest weather and is famous for its rugged natural beauty: mountains, rainforest and a stunning coastline are around every corner. It lies at the at the leading edge of the North American continent, a mere days sail from a subduction margin, a spreading ridge and a triple junction. The island has been most recently shaped by Quaternary glaciations and its steep fjords, narrow shelf and earthquake history make it an ideal place to study onshore and offshore geohazards. Subaerial landslides are a common feature of the steep terrane of mountainous regions of Vancouver Island and submarine landslides appear along the flanks of many bays and fjords of the British Columbia coastline, including nearby Kitimat Arm, in which David Prior and his colleagues have developed their famous idealized model of a submarine mass transport deposit. The coast has also been impacted by tsunamis on a number of occasions, including as recently as the 1964 Great Alaska earthquake.
Day trips from Victoria can take one watching Killer Whales, deep sea fishing, kayaking, hiking through rainforest, exploring the Gulf Islands or teeing off at one of the many scenic golf courses. If you have a little more time, take a trip to Tofino, Canada's most famous surfing destination with beautiful sand beaches, drive the quaint coastal road up to Campbell River and enjoy the many stops along the way, visit the mountainous Strathcona Park or try a multi-day hike along the coastal trails the Juan de Fuca Provincial Park or the famous West Coast Trail. Without question, Victoria and Vancouver Island is an 'exciting' area.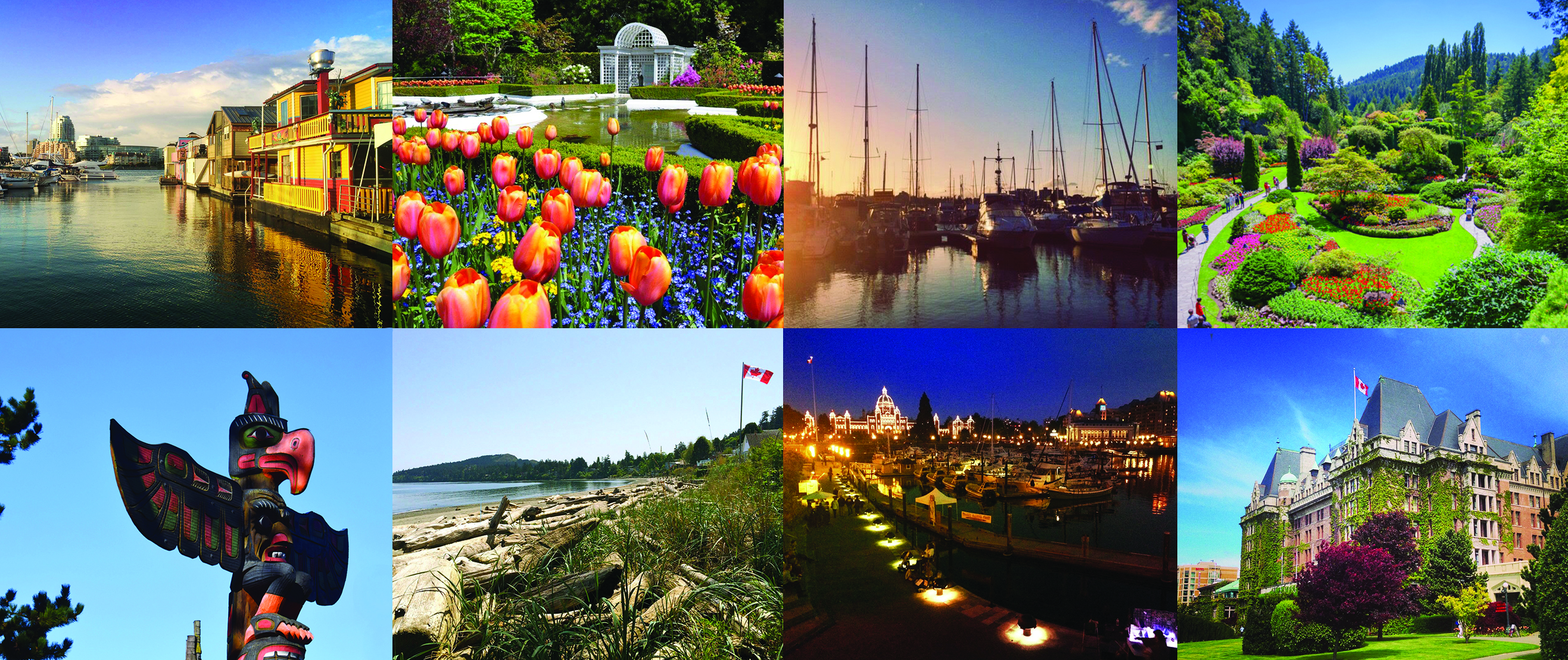 Important Dates:
| | |
| --- | --- |
| Abstract submission deadline with intent to publish in the "Submarine Mass Movements and Their Consequences" volume, produced by the Geological Society of London (GSL) | 15 February 2017 |
| GSL first draft paper submission deadline: | 1 August 2017 |
| Return of GSL manuscripts to authors for final revision: | 1 October 2017 |
| Final paper submission deadline to GSL: | 1 November 2017 |
| Early bird registration deadline: | 15 November 2017 |
| Application for student and post-doc travel support deadline: | 15 February 2018 |
| Abstract submission deadline for long, non-GSL abstracts: | 15 March 2018 |
| Special Rate Venue Hotel deadline (extended!) | 27 March 2018 |
| Symposium: | 7-9 May 2018 |
Symposium Organizers
:
Dave Mosher (PhD)
University of New Hampshire, Durham, NH, USA
Gwyn Lintern (DPhil/PhD)
Geological Survey of Canada, Institute of Ocean Sciences, BC, Canada
Cooper Stacey (MSc)
Geological Survey of Canada, Institute of Ocean Sciences, BC, Canada
Lorena Moscardelli (PhD)
Statoil R&T, Austin, TX, USA
Martin Scherwath (PhD)

Ocean Networks Canada,

BC, Canada
Scientific Committee:
| | |
| --- | --- |
| Dave Mosher (PhD) | University of New Hampshire, Durham, NH, USA |
| Gwyn Lintern (DPhil/PhD) | Geological Survey of Canada, Institute of Ocean Sciences, BC, Canada |
| Lorena Moscardelli (PhD) | Statoil R&T, Austin, TX, USA |
| Phil Hill (PhD) | Geological Survey of Canada, Institute of Ocean Sciences, BC, Canada |
| Cooper Stacey (MSc) | Geological Survey of Canada, Institute of Ocean Sciences, BC, Canada |